CNCEST
Stainless Steel Single-layer Bowel Powder Machine
Description
Shipping & Return
Wholesale Inquiry
✔Multi-functional : This machine can be used not only for steaming sausage powder, but also for steaming rice flour, River flour, meatballs, shrimp dumplings and so on. Whether you are cooking for your family at home or serving delicious food in a restaurant, it can meet your needs.

✔Heating Uniformity: drawer pallet, smooth surface, circular heating, uniform heating, the sausage powder made is smooth and delicious.

✔Use Safety: high-quality food-grade stainless steel, reinforced and thicker stainless steel handle, full edge, no sharp edge, will not hurt your hand.

✔Unique Design: The bottom of the steamer container is formed once, the panel is flat and ensures evenly heated,the steam cycling can be fully utilized,Small shaped make it convenient for store

✔Practice: Mijiang ingredient is rice rolls, solidifies when heated.Burned to water, then brush sweep point oil in the drawer, add proper amount of rice milk, shake up , sufficiently steam cooked in the cage at high temperature for a minutes,finally add a little tune of the sauce, sprinkle some good garlic sauce.
Specification:

Material: Stainless steel

Size: about 34x 31 x7 cm

Color: as shown

Feature:

1. Sturdy and wear-resistant, anti-cutting hands.

2. The entire thick stainless steel plate is easy to clean.

3. The drawer design ensures a better seal and steam can be fully utilized.

Practice: Mijiang ingredients are rice rolls. When heated, they are solidified and burned into water. Then brush the oil in the drawer, add the right amount of rice slurry, shake well, and feed the steam into the cage with high temperature steam. After a while, you can bake. Finally add a little sauce and sprinkle with some good garlic sauce.

Packing including:

1 *Single layer steamer

1 *drawer

1 * Intestinal powder scraping

1* intestinal brush

1* cork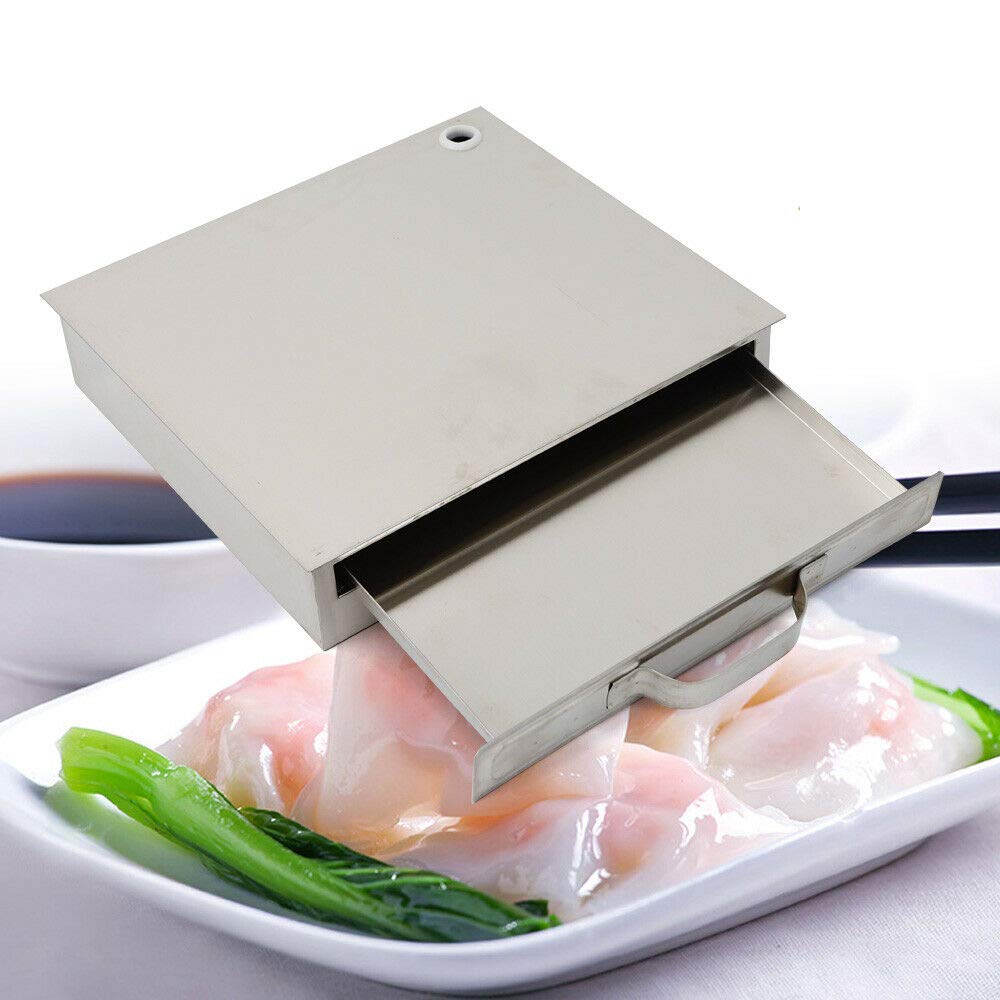 Shipping Policy

We offer free shipping on all orders with UPS Ground in the US mainland. Transit time with UPS ground shipping is anywhere from 3-7 business days depending on your location.
Note: We are unable to ship to Alaska, Hawaii, Puerto Rico, APO/FPO, or U.S. territory.

We use the highest quality and fastest logistics companies such as UPS Logistics, USPS, and FedEx Logistics to assist transportation.

Note: We DON'T accept post office box.


Shipping Times

Note: The shipping time is influenced by the COVID-19, cargo delivery time will be put off by 3 days! Thanks for your understanding!

Most products ship within 1 to 3 business days from the date of your order (unless indicated on the product page). We will send you tracking information as soon as it is available. If you do not receive tracking info within 5 business days of your order, feel free to follow up with us via email.
DELIVERY DAYS: 1-4 Business DAYS
Processing Time: 3 Business day
Our advantages: We have three local warehouses located in NJ, CA & GA. The goods will ship to you from the closest warehouse.

Return Policy
All our products could return for free within 60 days for some reason! Please check our Return Policy page for more details.

Refund Policy
Every product is backed by a 12-months warranty and a 60-day return policy from the date of purchase. Exceptional circumstances will be listed clearly in the listing. If you need to return a product and get a refund, please contact us for a free shipping label and ship it back.
The refund would be processed after the item is received by our warehouse staff, which is confirmed to be unopened and in good condition. You may learn more details on our
Refund Policy
page.
{formbuilder:NzczMzQ=}