CNCEST
Stainless Steel Frameless Door Lock Anti-Theft Security Lock for Window Cabinet
Description
Shipping & Return
Wholesale Inquiry
Material: This door lock is made of high-quality durable metal stainless steel, which is safe and durable without rusting.
This is a double door glass door lock, which is not perforated, very safe and easy to install. This is a suitable choice.
High safety performance, easy to install and disassemble.
Stainless steel material, waterproof and rustproof, durable.
It adopts double-bending door bolt design, which is suitable for family houses, shop windows, swing doors, offices, etc.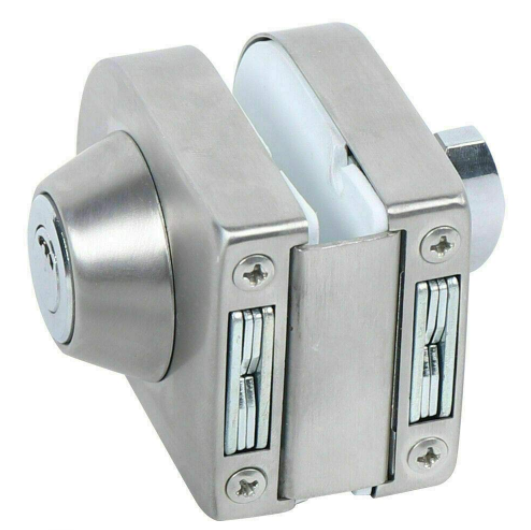 HI-QUALITY
CNCEST glass door lock is made of stainless steel, brushed finished, provide rust resistance and durable lifetime. The main color is silver.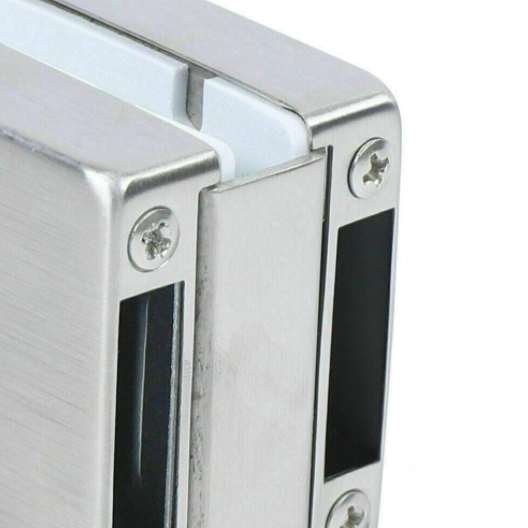 ATTETION
This Lock Only fit for the Thickness of 10mm-12mm Glass Door,4MM-10MM gap between the two glass door.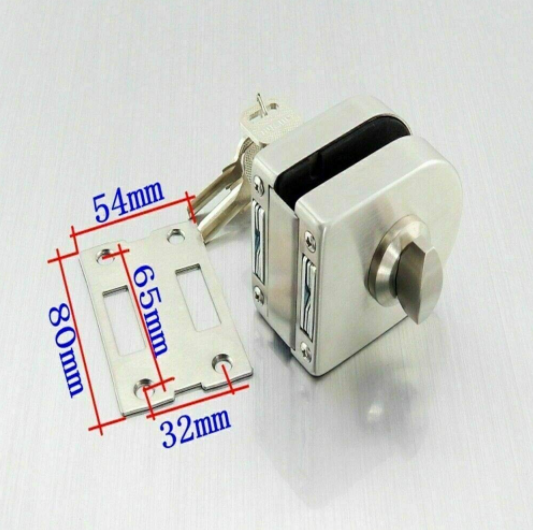 EASY TO INSTALL
No need to drill a hole, Slips on edge of glass door. Designed in double curved door bolts, this lock set will be perfect for family house, flat gate, office door,etc.
Specification:
Material: Stainless steel 304 + aluminum alloy
Lock cylinder: Pure copper
Size: 78 * 59mm
Glass door thickness: 10-12mm

Installation steps:
1: Use a cross screwdriver to unscrew the two small screws on the gusset plate with the lock knob, and then remove the gusset plate. The half without lock cylinder and lock knob may have to be unscrewed with small screws on both sides to determine the mounting surface(the mounting surface is the one with three screw holes).
2: Clamp the lock on the glass and screw on two adjusting screws. The tightness of the screws depends on the thickness of the glass. In order to adjust the use of the screws, it is not necessary to tighten the whole screw, as long as it is felt that the lock has clamped the glass. If it is installed by opening, in addition to installing two small screws, the long screws shall be installed through the previously made glass holes.
3: Cover the gusset plate, screw in the screws and finish the installation. If the single glass lock is installed, holes need to be made on the wall or door frame when installing the lock.

Features:
1.Waterproof and rust prevention
2.High safety performance
3.Simple installation

Package Included:
1 x Lock
Shipping Policy

We offer free shipping on all orders with UPS Ground in the US mainland. Transit time with UPS ground shipping is anywhere from 3-7 business days depending on your location.
Note: We are unable to ship to Alaska, Hawaii, Puerto Rico, APO/FPO, or U.S. territory.

We use the highest quality and fastest logistics companies such as UPS Logistics, USPS, and FedEx Logistics to assist transportation.

Note: We DON'T accept post office box.


Shipping Times

Note: The shipping time is influenced by the COVID-19, cargo delivery time will be put off by 3 days! Thanks for your understanding!

Most products ship within 1 to 3 business days from the date of your order (unless indicated on the product page). We will send you tracking information as soon as it is available. If you do not receive tracking info within 5 business days of your order, feel free to follow up with us via email.
DELIVERY DAYS: 1-4 Business DAYS
Processing Time: 3 Business day
Our advantages: We have three local warehouses located in NJ, CA & GA. The goods will ship to you from the closest warehouse.

Return Policy
All our products could return for free within 60 days for some reason! Please check our Return Policy page for more details.

Refund Policy
Every product is backed by a 12-months warranty and a 60-day return policy from the date of purchase. Exceptional circumstances will be listed clearly in the listing. If you need to return a product and get a refund, please contact us for a free shipping label and ship it back.
The refund would be processed after the item is received by our warehouse staff, which is confirmed to be unopened and in good condition. You may learn more details on our
Refund Policy
page.
{formbuilder:NzczMzQ=}