CNCEST
CNCEST 2 Stoke 3.5HP Outboard Motor Fishing Boat Superior Engine
$289.99
$267.99
In Stock
Sold out
Description
Shipping & Return
Wholesale Inquiry
After in the seawater or turbid water cruising, use the freshwater cleaning the outboard motor.

With the moderate velocity circulating the engine, cool off the water Chanel with fresh water.

Before completely running out of cooling water, don't put the outboard motor outside. Otherwise, the water can pass the exhaust port to enter the air cylinder, from that will cause the engine breakdown.

The engine should deposit in the aridity and ventilated well place, avoid exposing directly in the sunshine.

Before long-term storage, you should run out of gasoline in the fuel tank.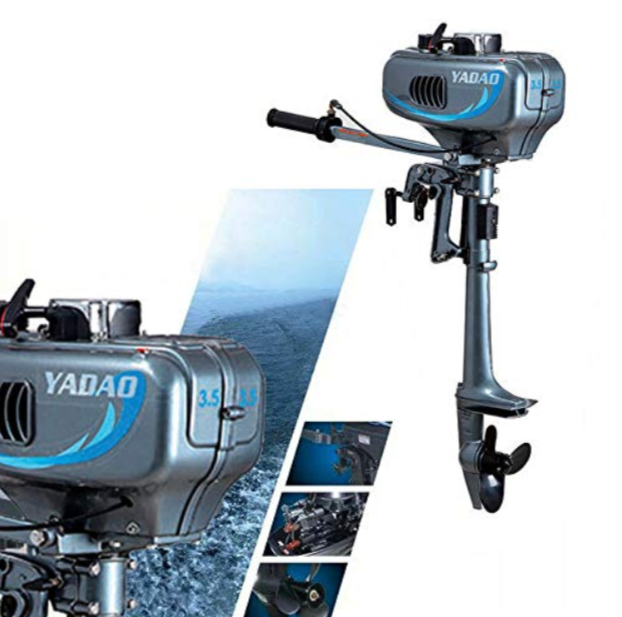 【About the noise】: all the gasoline machines are noisy, currently we did not test the decibel , but the noise is the same as the motorcycle, so it is a normal phenomenon
【Easy to install】It is easy to install on the many kinds of boat. fishing inflatable boat etc
Specification:
Overall length:83cm(32.68inch)
Overall widteh:36.5cm
Overall height:22cm
Transom height:42cm
Full throttle operating range:4000-5000r/min
Maximum output:2.5kw(3.5HP)
Speed:12km/h(four people)
Type:2-stroke
Short shaft:40cm
Ignition system: CDI system
Starting system: Manual start
Staring carburetion system: Choke start
Propeller mark:7-1/45-A(inch)
The engine and the propeller ratio:2:1
Recommended fuel: Regular unleaded gasoline
Fuel to oil ratio: 35:1 (Please be subject to this version, and disregard the manual about this point)
Gear ratio: 27/13
Notice:
Please add gear oil to the gears before using the motor and replace gear oil after the run-in period(10 hours). Our outboard motor doesn't with oil of gear, please prepare it by yourself.
Cylinder Scoring is serious damage, which caused by improper use and will cost you a lot of money to repair the motor.
Don't do the following will avoid cylinder Scoring:
1. Start the motor on the bank
2. Use the motor when it stops coming out of water
When there is no water coming out from the motor, please stop using it immediately, then check the impeller of a Water pump or check if the water outlet has been blocked.
Shipping Policy

We offer free shipping on all orders with UPS Ground in the US mainland. Transit time with UPS ground shipping is anywhere from 3-7 business days depending on your location.
Note: We are unable to ship to Alaska, Hawaii, Puerto Rico, APO/FPO, or U.S. territory.

We use the highest quality and fastest logistics companies such as UPS Logistics, USPS, and FedEx Logistics to assist transportation.

Note: We DON'T accept post office box.


Shipping Times

Note: The shipping time is influenced by the COVID-19, cargo delivery time will be put off by 3 days! Thanks for your understanding!

Most products ship within 1 to 3 business days from the date of your order (unless indicated on the product page). We will send you tracking information as soon as it is available. If you do not receive tracking info within 5 business days of your order, feel free to follow up with us via email.
DELIVERY DAYS: 1-4 Business DAYS
Processing Time: 3 Business day
Our advantages: We have three local warehouses located in NJ, CA & GA. The goods will ship to you from the closest warehouse.

Return Policy
All our products could return for free within 60 days for some reason! Please check our Return Policy page for more details.

Refund Policy
Every product is backed by a 12-months warranty and a 60-day return policy from the date of purchase. Exceptional circumstances will be listed clearly in the listing. If you need to return a product and get a refund, please contact us for a free shipping label and ship it back.
The refund would be processed after the item is received by our warehouse staff, which is confirmed to be unopened and in good condition. You may learn more details on our
Refund Policy
page.
{formbuilder:NzczMzQ=}