CNCEST
50g 110V Spice Grinding Machine and Coffee Bean Grinder-Large Capacity&Diffferent color
Description
Shipping & Return
Wholesale Inquiry
The grinder is in line with ergonomic design, a compact body, you can hold with one hand. It does not occupy space and save kitchen space.

Versatility:In addition to coffee beans, our grinder can easily chop and grinds spices, herbs, grains, nuts, and more. This grinding machine can basically meet all your grinding needs, it is very worthwhile to get one.

Uniform grind: With our powerful coffee grinder, the machine can grind whole coffee beans quickly and efficiently. It produced very even coffee grounds that could be used for espresso, cold brew, and everything in between. Different grinding times, different degrees of fineness, the longer the time, the more delicate.

One-touch push-button control: This grinder features one-touch push-button control so you can quickly create the perfect consistency. And the clear lid allows you to fully see inside to determine the grinding thickness, from coarse to fine.

It is recommended to use a small brush or wet cloth to wipe, do not use water.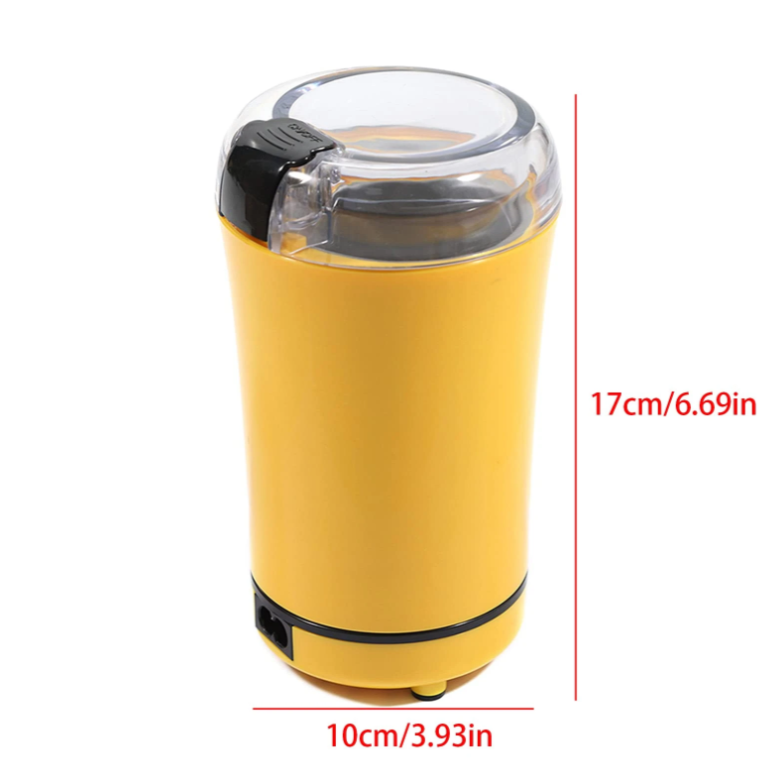 The electric coffee grinder has a 150W power design, can adjust the different grinding thicknesses of coffee beans. Can as a gift to provide for your family or friends.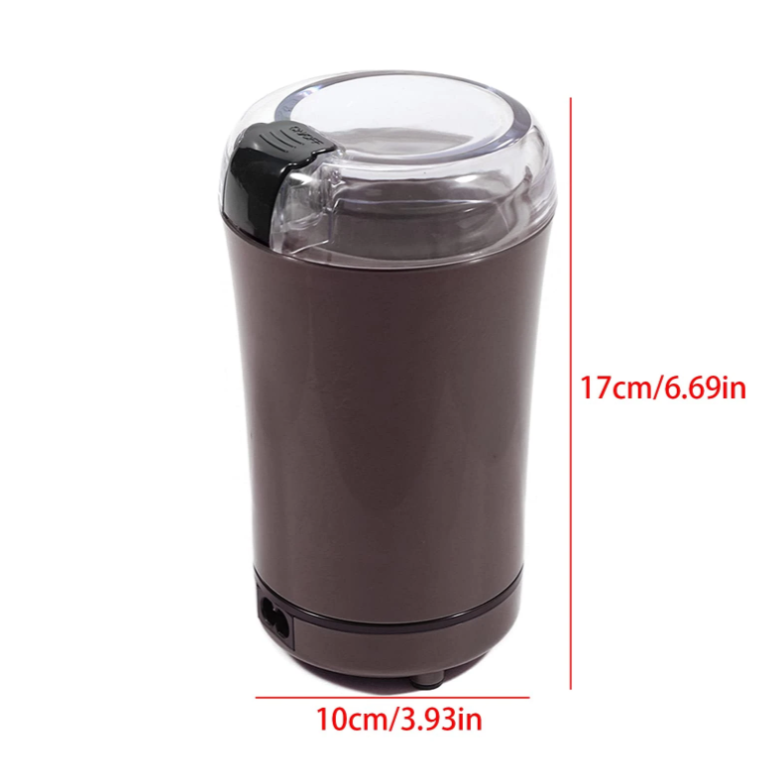 The mini electric coffee grinder made of high-quality stainless steel liner and blades are used, which are safe and non-toxic, durable and wear-resistant, and easy to clean.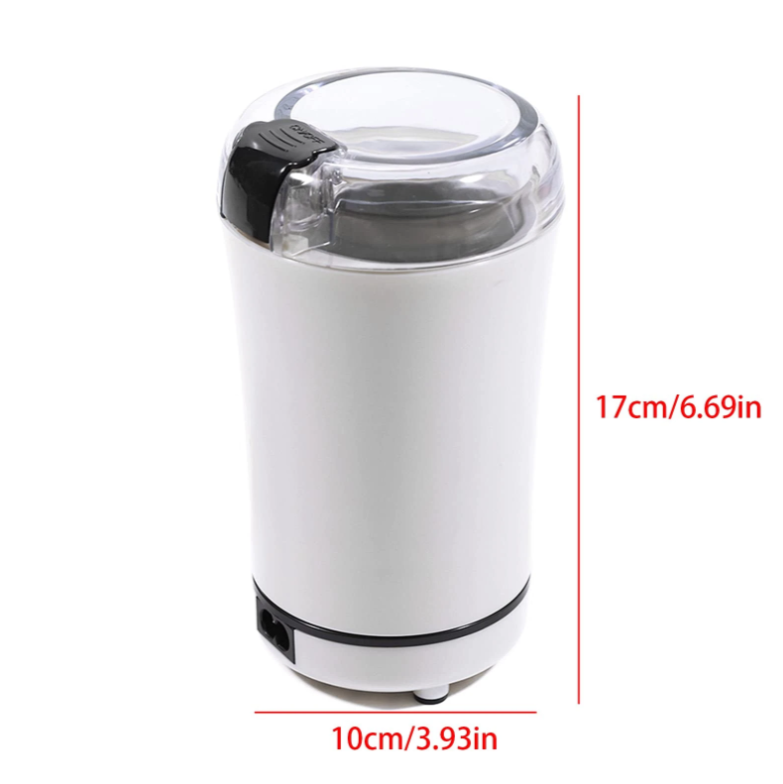 The Multi-Function Electric Grinder can meet the daily hard and soft flour demand. It also grinder all sorts of dry food such as spices, coffee beans, pepper beans, sugar, and herbs, etc.
Specifications:
Color: dark reddish-purple / Black / White /Yellow
Capacity: 50 g
Voltage: 110 V / 60 Hz
Power: 150 W
Material: 304 Stainless Steel
Product Size: 10 * 17 Cm
Packing Size: 11 * 10 * 19 Cm
Product Weight: 0.5 Kg
Packing Weight: 0.6 Kg
Applications: Can Grind Coffee, Cereals, Pepper, Dried Pepper, Spices

Packing List:
1 x grinding tool
Note!!!                                    
Which one we send depends on your choice
Shipping Policy

We offer free shipping on all orders with UPS Ground in the US mainland. Transit time with UPS ground shipping is anywhere from 3-7 business days depending on your location.
Note: We are unable to ship to Alaska, Hawaii, Puerto Rico, APO/FPO, or U.S. territory.

We use the highest quality and fastest logistics companies such as UPS Logistics, USPS, and FedEx Logistics to assist transportation.

Note: We DON'T accept post office box.


Shipping Times

Note: The shipping time is influenced by the COVID-19, cargo delivery time will be put off by 3 days! Thanks for your understanding!

Most products ship within 1 to 3 business days from the date of your order (unless indicated on the product page). We will send you tracking information as soon as it is available. If you do not receive tracking info within 5 business days of your order, feel free to follow up with us via email.
DELIVERY DAYS: 1-4 Business DAYS
Processing Time: 3 Business day
Our advantages: We have three local warehouses located in NJ, CA & GA. The goods will ship to you from the closest warehouse.

Return Policy
All our products could return for free within 60 days for some reason! Please check our Return Policy page for more details.

Refund Policy
Every product is backed by a 12-months warranty and a 60-day return policy from the date of purchase. Exceptional circumstances will be listed clearly in the listing. If you need to return a product and get a refund, please contact us for a free shipping label and ship it back.
The refund would be processed after the item is received by our warehouse staff, which is confirmed to be unopened and in good condition. You may learn more details on our
Refund Policy
page.
{formbuilder:NzczMzQ=}