Product description
Shipping & Return
Wholesale Inquiry
Mini lithium electric chain saw, high power and fast cutting, high performance and strength.

Lightweight body, easy to operate with one hand, slim body design, easy to hold.
High temperature quenched guide plate, super wear-resistant chain, sharp, cutting block more quickly, durable, durable.
The chain can be locked automatically by aligning the orifice of guide plate with the adjusting lever and inserting the spring.
Strong brushless motor, stable power output, strong lithium battery life, enjoy wireless operation.
Heat dissipation hole design, efficient ventilation and heat dissipation, durable operation without burning machine.
Wide scope of application, can be used for orchard cutting transverse branches, household firewood, bamboo tree cutting, sapling, municipal greening projects.
Chain saws are faster and easier to cut than reciprocating saws. It is easier and more stable to install than the chain saw modified by the Angle grinder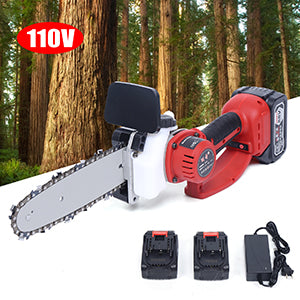 Wide Application Range
It can be used for cutting horizontal branches in orchards, household firewood, bamboo cutting, tree seedlings, and municipal greening projects.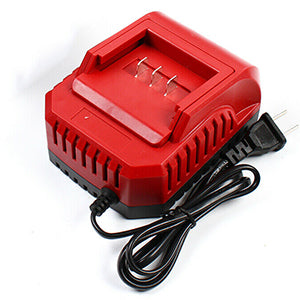 Wireless Design
It is powered by a lithium battery and does not need to be connected to a power source. It is very suitable for field operations without power.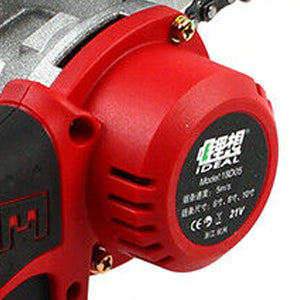 Strong Power
10000mA rechargeable lithium battery, about 1200W strong brushless motor, no-load speed up to 200m/min, stable power output, strong lithium battery life.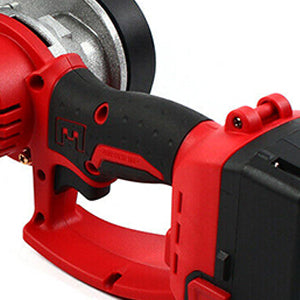 Humanized Design
Soft rubber handle, non-slip and sweat absorbing, more comfortable to use. Widen the protective plate to prevent hands from being scratched by debris. High-temperature quenching guide plate, super wear-resistant chain, sharp, faster cutting, strong and durable.
Specifications: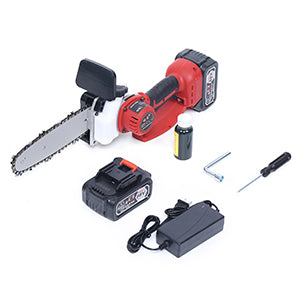 Name: Lithium Chain Saw
Chain size: 10"
Chain Speed: 5m/s
Maximum Cutting Diameter: 20cm
Working voltage: 21V
Battery capacity: 3.0Ah rechargeable lithium battery, 10000mA
No-load speed: 200m/min
Motor power: about 1200W

Packing List:
1x Chain Saw
2x Batteries
1x charger Set

Shipping Policy
We offer free shipping on all orders with UPS Ground in the US mainland. Transit time with UPS ground shipping is anywhere from 3-4 business days depending on your location. 
If you have any questions, feel free to contact via email support@cncest.com or Tel: +86-18981865415.
Note: We are unable to ship to Alaska, Hawaii, Puerto Rico, APO/FPO, or U.S. territory.

We use the highest quality and fastest logistics companies such as UPS Logistics, USPS, and FedEx Logistics to assist transportation.

Note: We don't use the post office box.


Shipping Times

Most products ship within 3 business days from the date of your order (unless indicated on the product page). We will send you tracking information as soon as it is available. If you do not receive tracking info within 5 business days of your order, feel free to follow up with us via email.
DELIVERY DAYS: 3-4 Business DAYS
Processing Time: 3 Business days
Our advantages: We have three local warehouses located in NJ, CA & GA. The goods will ship to you from the closest warehouse.
International Purchase
Import duties, taxes, and charges are not included in the item price or shipping charges. The buyer should be responsible for these charges.

Return Policy
All our products could return for free within 60 days for some reason! Please check our Return Policy page for more details.

Refund Policy
Every product is backed by a 12-months warranty and a 60-day return policy from the date of purchase. Exceptional circumstances will be listed clearly in the listing. If you need to return a product and get a refund, please contact us for a free shipping label and ship it back.
The refund would be processed after the item is received by our warehouse staff, which is confirmed to be unopened and in good condition. You may learn more details on our
Refund Policy
page.
Contact Us:
Address:
NO 3 TAI YAU STREET
San Po Kong, Kowloon, HK

Tel: +86-18981865415
Our telephone working hours: Monday to Friday, 8:00-17:00 (GMT- 08:00)

Email: support@cncest.com (Emails will be answered within 24 hours.
(Except weekends and public holidays)