CNCEST
20CM/24CM Stainless Steel Soup Pot - 304 Double Handle Pot
Description
Shipping & Return
Wholesale Inquiry
【Even Heat】Pot bottom diameter: 8.78/9.45 inches; The bottom of the aluminum disc provides even heat distribution and prevents hot spots; Suitable for induction cooker, gas stove, electric stove, glass, ceramic stove; Washable in the dishwasher

【Even Heat】 Soup Pot bottom diameter: 8.78/9.45 inches; The bottom of the aluminum disc provides even heat distribution and prevents hot spots; Suitable for induction cooker, gas stove, electric stove, glass, ceramic stove; Washable in the dishwasher

【Tempered Glass Lid】The tempered glass lid with steam holes and ventilation holes is convenient for viewing food, and has a clear water level line to clearly understand the cooking ability, sinking the edge of the lid, locking nutrition, imitation wood handle, comfortable grip and beautiful anti-corrosion -hot

【Overflow Prevention】The solid tempered glass lid keeps food nutrition, Helps simply look at the cooking process without removing, The small hole venting hot air to avoids spilling out, the spray stays in side and doesn't splash everywhere.The big hollow lid knob easy to lift up

【Wide Application】The  Soup Pot is sufficient for 2-5 persons, Ideal for making pasta, cooking soup, stewing veggies, reheating leftovers, and canning. The covered stockpot is compatible with gas, induction, ceramic and halogen cooktops. Suitable for boiling soup, sauting meat and various yummy dishes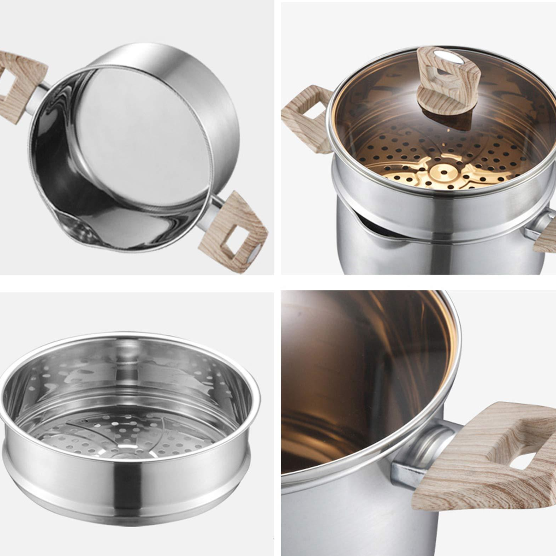 The heat-resistant ergonomic stainless steel handle is easy to hold, which can effectively isolate you from high temperatures and avoid direct contact with the hot pot.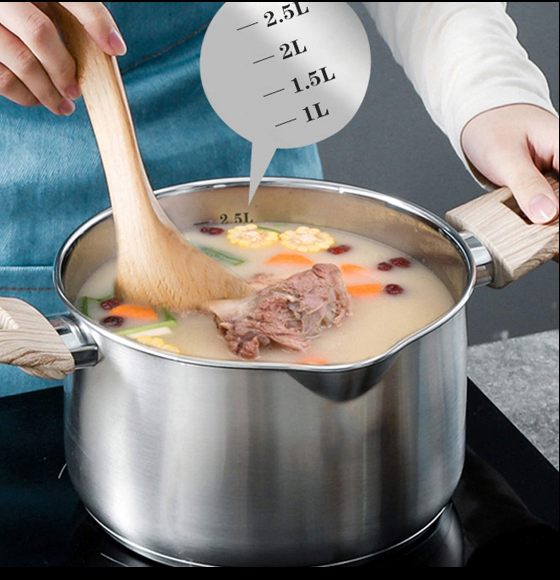 It is ideal for making pasta, boiling soup, stewing vegetables, heating leftovers and canning. The soup pot with lid is compatible with gas, induction cooker and ceramics. Suitable for cooking soup, fried meat and various delicacies!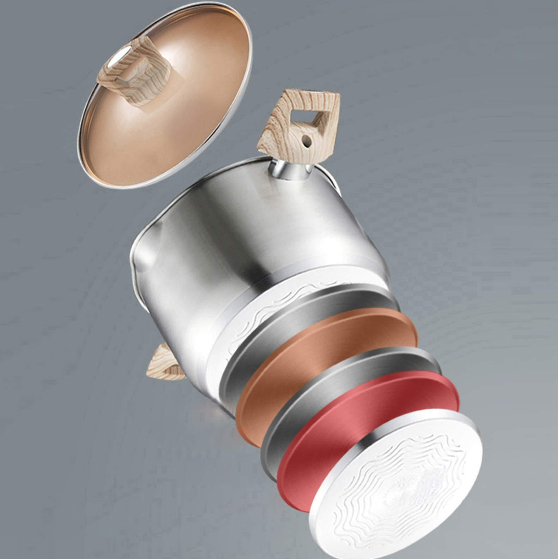 The soup pot is made of 304 stainless steel, and the lid of the soup pot is made of glass. It is inactive and has no metallic taste. It can be cooked daily.
Parameter:
Material: 304 material
Bottom: 5 layer compound bottom
Handle: anti-scald
Lid: glass lid

Precautions:
1. Before use, stainless steel edible utensils must be scalded several times with boiling water for high temperature disinfection
2. Avoid knocking over, falling, collision and strong impact, otherwise it will cause deformation of stainless steel products, affecting the appearance and use effect
3. Do not keep stainless steel products in contact with salt-containing substances (or other acid-base substances) such as soy sauce and vinegar for a long time to avoid rust
4. The inside of stainless steel utensils sometimes has some red rust spots due to the influence of iron and other substances in the contents. You can use warm water and dilute vinegar to soak for 30 minutes, and then fully clean it
5. Stainless steel utensils should be cleaned with soft cloth and tableware cleaner diluted with warm water. Do not use alkaline bleach, metal vegetable cloth, chemical wipes, etc
6. In order to prevent the generation of peculiar smell or stains, and can be used cleanly for a long time, please clean and dry the stainless steel utensils after use
7. After the stainless steel utensils are heated at high temperature, do not touch them directly with your hands to avoid burns
8. Which one we send depends on your choice, You have to choose the size you need 

Shipping Policy

We offer free shipping on all orders with UPS Ground in the US mainland. Transit time with UPS ground shipping is anywhere from 3-7 business days depending on your location.
Note: We are unable to ship to Alaska, Hawaii, Puerto Rico, APO/FPO, or U.S. territory.

We use the highest quality and fastest logistics companies such as UPS Logistics, USPS, and FedEx Logistics to assist transportation.

Note: We DON'T accept post office box.


Shipping Times

Note: The shipping time is influenced by the COVID-19, cargo delivery time will be put off by 3 days! Thanks for your understanding!

Most products ship within 1 to 3 business days from the date of your order (unless indicated on the product page). We will send you tracking information as soon as it is available. If you do not receive tracking info within 5 business days of your order, feel free to follow up with us via email.
DELIVERY DAYS: 1-4 Business DAYS
Processing Time: 3 Business day
Our advantages: We have three local warehouses located in NJ, CA & GA. The goods will ship to you from the closest warehouse.

Return Policy
All our products could return for free within 60 days for some reason! Please check our Return Policy page for more details.

Refund Policy
Every product is backed by a 12-months warranty and a 60-day return policy from the date of purchase. Exceptional circumstances will be listed clearly in the listing. If you need to return a product and get a refund, please contact us for a free shipping label and ship it back.
The refund would be processed after the item is received by our warehouse staff, which is confirmed to be unopened and in good condition. You may learn more details on our
Refund Policy
page.
{formbuilder:NzczMzQ=}