CNCEST
17L/min Liquid Bottle Filler Machine 110V Bottle Filling Machine for the Filling of Ordinary Liquid and Viscous Liquid
$429.99
In Stock
Sold out
Description
Shipping & Return
◕‿◕ This product uses a microcomputer to control the pump's working time, speed, and other factors to achieve a liquid filling device with accurate output and small repeat error. The product uses a self-priming pump, which can run continuously for a long time with low noise.

◕‿◕ High filling accuracy: deviation is less than 1% and with deviation correction function. High filling speed: 17 liters/minute (water), the speed can be adjusted 1-99%.

◕‿◕ High degree of intelligence: There is the automatic and inching mode, with filling parameter learning functions. Various quantitative units: time: S weight: g, kg volume: ml, L. It is suitable for the filling of ordinary liquid and viscous liquid. It can be widely used in food, beverage, pharmaceutical, chemical, oil, cosmetics, and other industries.

◕‿◕ Single-point calibration: calibrate and replace the weight of the peer product as much as possible. Re-calibration is required for the filling volume. Once our products are calibrated, all weights can be accurately filled!

◕‿◕ Full numeric keyboard: modify the parameters and input the numbers directly, without pressing the plus and minus keys to slowly add or subtract. Chinese and English bilingual menu. We ship from the US warehouse, it means that it will be delivered to you soon. If you have any questions, please feel free to contact us, we will spare no effort to help you.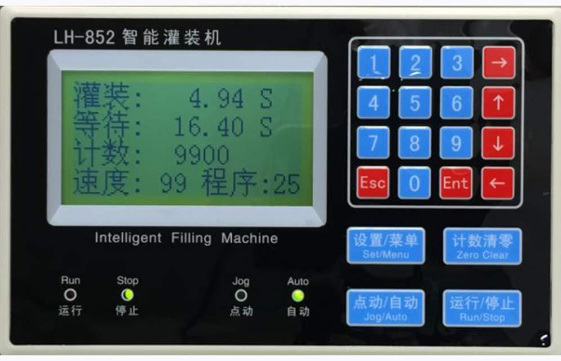 Digital Speed Control
Volume = Speed Control X Filling Time (Save one data group automatically, no need to adjust next time.)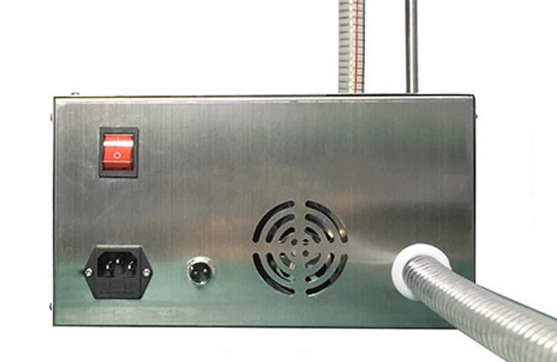 Stainless Steel Body
Meet GMP requirement, being sturdy and corrosion resistant.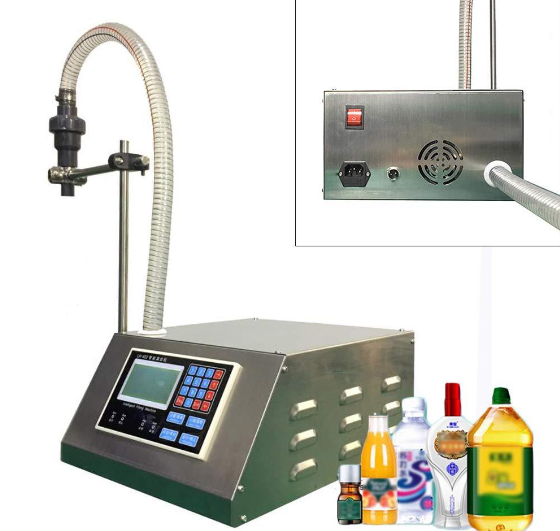 The accessories used in our liquid filling machine from the inside out are all high-quality accessories. Stainless discharge nozzle, not plastic nozzles used by others; Food grade clear silicone tubing, not industrial rubber tubing
Product parameters:
Model: LH-852
Voltage: AC110v
Rated power: 210w
Filling range: 0.01-999.99
Unit of measurement: s/g/kg/ml/l
Minimum filling: 50g
Waiting time: 0.01-999.99s
Counting range: 1-99999
Filling speed: 17L/min (water)
Filling error: ±1%
Vacuum: 2m
Nozzle: outer diameter 20mm
Discharge tube: outer diameter 25mm/length 0.6m
Feeding tube: outer diameter 25mm/length 2.0m
Liquid temperature: ≤60℃
Host specification: 360*300*156mm
Machine weight: 8.5kg
Viscous liquid: applicable
Ordinary liquid filling: 17L/min
Viscous liquid filling: about 7L/min

Panel introduction
Setting/Menu: Short press this key to enter the setting interface to modify the filling parameters, long press this key for 3 seconds to enter the menu
Run/stop: press this key to start filling when filling is stopped, press this key to stop when filling
Jog/Auto: Press this key to switch working mode
Jog: Press once to fill once
Automatic: after pressing once, the filling machine finishes the countdown waiting time and then fills the second time, and continues to cycle until the run key is pressed again to stop
Count clear: filling counter data reset to zero
Esc: exit
Ent: Confirm, press this key on the working interface to directly select the program number
↑↓←→: Move cursor when modifying parameters
0-9 key: input digital indicator: light indicates the current working status of the device

Packing list:
Main unit*1, bracket*1, power cord*1, foot switch*1, hexagon wrench*1, instruction manual*1
Shipping Policy

We offer free shipping on all orders with UPS Ground in the US mainland. Transit time with UPS ground shipping is anywhere from 3-7 business days depending on your location.
Note: We are unable to ship to Alaska, Hawaii, Puerto Rico, APO/FPO, or U.S. territory.

We use the highest quality and fastest logistics companies such as UPS Logistics, USPS, and FedEx Logistics to assist transportation.

Note: We DON'T accept post office box.


Shipping Times

Note: The shipping time is influenced by the COVID-19, cargo delivery time will be put off by 3 days! Thanks for your understanding!

Most products ship within 1 to 3 business days from the date of your order (unless indicated on the product page). We will send you tracking information as soon as it is available. If you do not receive tracking info within 5 business days of your order, feel free to follow up with us via email.
DELIVERY DAYS: 1-4 Business DAYS
Processing Time: 3 Business day
Our advantages: We have three local warehouses located in NJ, CA & GA. The goods will ship to you from the closest warehouse.

Return Policy
All our products could return for free within 60 days for some reason! Please check our Return Policy page for more details.

Refund Policy
Every product is backed by a 12-months warranty and a 60-day return policy from the date of purchase. Exceptional circumstances will be listed clearly in the listing. If you need to return a product and get a refund, please contact us for a free shipping label and ship it back.
The refund would be processed after the item is received by our warehouse staff, which is confirmed to be unopened and in good condition. You may learn more details on our
Refund Policy
page.